Create a Wedding Balloon Centrepiece

A wedding balloon centrepiece (or wedding balloon bouquet as it is often referred to) is a really simple form of wedding balloon decoration that's cheap and easy to make yourself (with help from a few willing volunteers).
They can be used instead of or to reduce the number of flowers required to decorate the church and/or reception.
Balloons are very visual and will therefore have a big impact as soon as your guests walk in. For this reason you don't need to go overboard with them. Normally wedding balloon centrepieces will consist of an odd number of balloons, usually three (and normally not more than five) balloons to each centrepiece.
It's also important to get the length of the ribbons right as you want your guests to be able to see each other across the tables.
Make sure the ribbons are long enough so that they're not in your guests' line of sight when they are sitting down, but not too long that they look detached from the table decorations.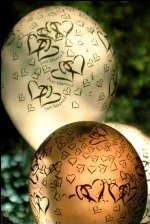 You'll need to use helium filled balloons to get the right look (disposable helium cannisters are easily available online). However, helium filled latex balloons will typically stay afloat for around 6-8 hours, so you'll need to get your timings right.
If your reception is planned for say 3 o'clock and your guests will be seated at their tables for around 3 hours then you will need to inflate the balloons at around 1pm to give you the best chance of having all your balloons stay afloat for the duration of the day.
Alternatively you can get a product called "Hi-Float" which is a liquid that coats the inside of the balloon before you inflate it. You then roll the empty balloon between your hands to make sure the balloon is fully coated and then inflate it as normal.
Depending on how long you want your wedding balloon centrepieces to stay afloat they have several different products which will make your balloons stay afloat for between 10 to 25 times longer than a standard balloon.
So how do you make a wedding balloon centrepiece?
Choose what you want to use to weigh down your balloons. This can be as simple or ornate as you want, from something topical to match your theme to something simple like purpose-made foil helium balloon weights. You could even make your own weights out of balloons filled with sand and then dress them up with ribbons and tissue paper.


Get your balloon curling ribbon in the colour that you want. You can have it matching the balloons or contrasting, it's entirely up to you and it's easily available online from a variety of sources.


Decide if you want your latex balloons all in the same colour or different colours. Calculate how many you need and then buy a few extra as some will likely burst while you're working with them.


Now that you've everything you need, I'd suggest making the weights first and then inflate the balloons. As you inflate each balloon tie it and attach the ribbon to the neck of the balloon (remember to leave enough ribbon at each end to curl later).

Then measure the length you want the lowest balloon and tie the ribbon to the weight bag. Don't cut the ribbon until you have tied it to the weight bag, otherwise by the time you have tied the knot your balloon will be lower than you'd wished.


Repeat the process for the second and third balloons and finally use the back edge of your scissors to curl the ribbons at the neck of the balloons and at the top of the weight.


That's it, just repeat the whole process as many times as necessary for all your guest tables and you're done.
As you can see it's not difficult to create a wedding balloon centrepiece and now that you are feeling a little more confident you may want to think about making  other types of wedding balloon decorations including a wedding balloon arch (which is nowhere near as complicated as you may think).
Return from Wedding Balloon Centrepiece to Cheap Wedding Decorations.