Wedding Balloon Decorations
They Really are Easy and Cheap!
Wedding balloon decorations are a great way of decorating your venue on a budget.
You can use them instead of or in addition to your wedding flowers. If you use them in addition to your flowers they can allow you to reduce the number of flowers required and therefore reduce your costs.
The most important things to consider with wedding balloon decor are:
Wedding balloon decorations are actually quite simple to make once you know the basics. However making balloon decorations is time consuming (especially wedding balloon arches) so you will need to recruit as many friends and family to help as possible.
Balloons for wedding decorations have a limited shelf life so they need to be prepared as late as possible. Air filled balloons will last longer than helium filled balloons.
When filling your balloons you need to decide what you are going to use, helium or air? Both have their advantages and disadvantages :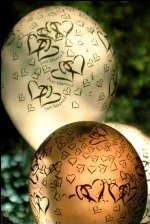 Advantages of helium filled Wedding balloon Decorations:
They're quick to inflate as you will use a canister of compressed helium.
Helium filled balloons will float so you won't need to think about additional structural support for your balloons.
Disadvantages of helium filled balloons:
Helium leaks from your balloons quicker than air will (smaller molecules) so you will have around 6-8 hours before they will start to sink towards the floor (unless you use foil balloons). For this reason your timing when preparing your wedding balloon decorations will need to be perfect.
Helium is more expensive than air as air is free. Depending where you buy from, helium canisters can cost from around £25-£35 for a 4kg canister which will inflate around thirty 9 inch balloons.
Advantages of air filled balloons:
Air is free!
Air filled balloons will stay inflated for longer than helium filled balloons.
Provided you use support, you can still create balloon effects such as wedding balloon arches etc.
Disadvantages of air filled balloons:
It will take a little longer to inflate your balloons with air, however balloon pumps are easily available on-line for just a few pounds which will make your job much simpler and quicker.
Helium filled balloons can look a little better as the helium helps form support for the decoration naturally, while air-filled balloons can look a little droopy sometimes.
---
When it comes to balloons for wedding decorations there are three main types of balloon decor you can use and the good news is that they are all quite simple to do:
Very simple wedding balloon decorations: - The simplest form of balloon decorations is a balloon ceiling. If using helium, you simply fill your balloons and tie a ribbon to the neck of the balloon before releasing them up to the ceiling. If you want people to be able to reach them you just need to make sure the ribbons are long enough for your guests to reach. N.B. Always check with your venue before organising this as they're the ones who will have to get the balloons down after you leave. Some venues do not allow helium filled balloons as they can be difficult to remove after the wedding if the ceilings are high.

You can achieve a similar look with air filled balloons by putting a large net up next to the ceiling and then filling the net with air filled balloons. The net will hold the balloons against the ceiling all day or until you want them released. This can be a great effect as your guests will then spend ages punching and kicking balloons around with huge smiles on their faces. After all, who doesn't enjoy playing with balloons?

Wedding balloon centrepieces: - These look great and are really simple to create. They can be used to tie in your theme colours to your table decorations just like wedding flowers. Just follow the link above to see my easy to follow steps for creating wedding balloon centrepieces and you'll not only have beautiful looking table centrepieces, but you could save a fortune by not needing traditional flower centrepieces.
Wedding balloon arch: - The wedding balloon arch is something you might initially shy away from. However, if you follow my simple steps as laid out in my article on the wedding balloon arch (use the title link above), you'll be amazed at just how simple it is to create with either helium or air filled balloons.
One final tip - before you make your decision on air or helium filled balloons for your wedding balloon decorations. If you are put off by the fact that helium filled balloons leak helium quite quickly you should consider a product called Hi-Float.
It simply coats the inside of each balloon before you fill it with helium (you put a single squirt into the deflated balloon and roll it around between your hands to coat the entire inside of the balloon). It basically delays the helium escaping from the latex balloon and makes it stay afloat longer so you can make up your balloon decorations earlier.
Check out my article on simple wedding decorations for other ideas on how to decorate your wedding on a budget.

Return from Wedding Balloon Decorations to Cheap Wedding Decorations.

Return to the home page.