Outdoor Wedding Decorations
Aspects to Consider
Outdoor wedding decorations present many different issues compared with indoor decorations.
I assume you already have a beautiful venue in mind for your outdoor wedding and whether that venue is a garden, beach or forest, you'll have to consider different things for each when planning you wedding decorations, especially if your location is in the UK or Ireland.
In most instances your location will form the backdrop meaning all you have to do is accent it with some subtle outdoor wedding decorations that will complete your overall theme.
This also means you should be able to save money, as simple wedding decorations are normally cheap wedding decorations.
Below are some of the most important aspects you should be considering for your outdoor wedding decorations: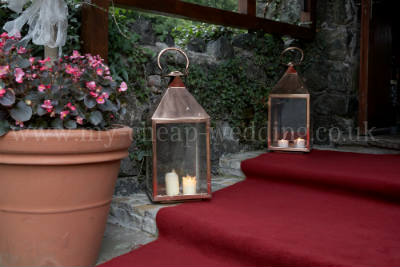 Considerations for outdoor decorations:

Consider the weather - no matter where your wedding is located there is always a chance of showers (more so in the UK) so you'll need to make sure your decorations won't be affected by water. In other words, avoid paper decorations unless they have a waxed finish (otherwise once wet the dye will come out of them), plastic, waxed or fabric options are a much safer bet.

Also make sure your chosen decorations, arrangements etc. are heavy enough that they won't blow or fall over. This can easily be done by weighting the bottom of them or avoiding tall slender decorations.


Be careful with candles - if there's a breeze your candles can blow out really easily and if there is more than a breeze they can blow over (spilling hot wax on your guests and presenting a potential fire risk). When outside you should put candles in votives or lanterns to keep them secure and lit (as in the image above).


Chairs - these should always suit your chosen venue. With outdoor venues you can get away with natural wooden chairs as they will tie in with their surroundings. If you want, the chairs can be lifted further by using chair covers to give a more formal dressed look.


Garden arch - these are very popular for outdoor weddings as it provides a focal point for the ceremony and somewhere for the vows to be exchanged. If your venue doesn't have one, they can usually be rented from garden centres and decorated with fairy lights or flowers to match your theme. They also provide a great backdrop for pictures.


Flowers - if your location is very picturesque you should try to keep your flowers quite simple, just drawing the eye to important focal points such as the start of the aisle or the arch etc.


Lights - simple white fairy lights can look fantastic in a natural setting, especially if the service is past dusk. They can also be used to highlight the arch or bay trees, flowers etc. Bear in mind with most fairy lights you'll need a power supply. If you can get an extension lead great but it needs to be a waterproof one and if not a generator is noisy. Battery powered lights are available online however these will not last as long so have spare batteries ready.


Plants - these can also normally be rented from garden centres or florists and can be used with great effect to mark key locations like the aisle or disguise things you want to keep hidden (PA systems, microphone stands, power cables etc.).


Wedding balloon decorations - these can look fantastic and balloons are easily available online. Always consider how windy your venue is likely to be and if you think it may be an issue could consider balloon sculptures where the balloons are tightly packed together and if using individual balloons try to avoid using long strings.


Confetti - consider bio-degradable confetti as you won't want to harm the location you are using and always check with your venue what their policy is on confetti, as many venues don't allow it.


Toilets - not the most romantic aspect of your outdoor wedding but it is something you'll need to consider. If your venue doesn't already have toilet facilities you'll need to hire some. You can always disguise them by decorating them or placing them behind something to keep them out of site (keeping them down-wind is always a good idea, just in case!).


Consider an aisle runner - any outdoor venue can leave the hem of your dress dirty, so think about having an aisle runner or red carpet to keep your hem off the ground.
It's really important that you speak to your venue and discuss your plans in detail before putting the wheels in motion. That way you'll not end up planning anything they won't be happy with.
Plus it gives you the opportunity to ask them if they have any of the things you need to complete your outdoor wedding decorations. If they do they may allow you to use them free of charge, or for a small fee (this will often be cheaper than sourcing them elsewhere and transporting them to your venue).
As you can see, provided you consider all the relevant aspects carefully, there's no reason why your outdoor wedding decorations can't be simple wedding decorations and cheap!
For more ideas on all the various types of wedding decorations you'll need for your big day check out my article covering cheap wedding decorations.
Return from Outdoor Wedding Decorations to Cheap Wedding Decorations.