Recession Weddings
Welcome to the latest issue of "Cheap Wedding Gems".

This e-zine will keep you up to date with all my latest tips and money saving ideas for your perfect cheap wedding day.

If you enjoy this e-zine and know someone who is getting married please forward a copy to them so that they can benefit from the various articles.

If this e-zine was forwarded to you by a friend and you would like to see more then please follow this link to see how you can sign up for future issues (don't worry it's completely FREE).
---
Contents:
- Recession Weddings- What are the unique issues you need to know about getting married during a recession?

- Latest articles on my-cheap-wedding.

- Tip of the month.

- Final thought.
---
Recession Weddings!
Planning a wedding during a recession adds a new dimension to your plans. How do you safeguard yourself from suppliers or shops going bankrupt?

Every day we are hearing that high street stores are closing their doors because of reduced sales. So more than ever making sure the various aspects of your wedding are insured is essential.

Get all the details on my insurance page and make sure you're not left out of pocket should the worst happen. It's not as expensive as you think.
---
Latest articles on my-cheap-wedding.co.uk

What Questions To Ask Your Wedding Venue.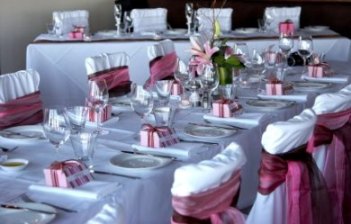 What questions to ask your wedding venue - one of the most important aspects of choosing your wedding venue is to understand exactly what they are going to give you in return for your hard earned cash.

To make this process simpler I have prepared a list of questions which you can use when talking to your potential venues. Trust me they will make your life a LOT easier...
---
Tip of the month.
In a recession negotiate!
The recession is hitting us all and we have all had to rein in our spending and try to economise as much as possible. In general it's been tough.
But there is one positive aspect to the recession...
All the suppliers who are trying to get your wedding business are REALLY keen to get it and that means they will be more open to negotiation. So you should be able to get the price reduced more easily.
One thing you should be aware of is not pushing it too far. Yes you want to get a discount but you want these people to look after you and give you their best. If you drive their price down so much that their profit is minimal they won't want to go that extra mile and won't want to help you if you have a query before the wedding day.
So rule No.1 negotiate hard but not too hard.
---
Final Thought
As soon as you start spending money make sure it is protected by taking out wedding insurance.

Better safe than sorry.

Until next month...


P.S. Why not send this to a friend who is getting married, you might just save them a fortune!

If this was sent to you by a friend and you enjoyed it, then click here to see how to go about signing up for more copies of my FREE money saving e-zine and get a complementary wedding planner.