My Family Wedding Etiquette Tips.
Welcome to the latest issue of "Cheap Wedding Gems".

This e-zine will keep you up to date with all my latest tips and money saving ideas for your perfect cheap wedding day.

If you enjoy this e-zine and know someone who is getting married please forward a copy to them so that they can benefit from the various articles.

If this e-zine was forwarded to you by a friend and you would like to see more then please follow this link to see how you can sign up for future issues (don't worry it's completely FREE).
---
Contents:
- Family Wedding Etiquette Tips - This will hopefully help you avoid some of the pitfalls.

- Latest articles on my-cheap-wedding.

- Tip of the month.

- Final thought.
---
You Can't Keep Everyone Happy!.
It's best you hear this now...you will get stressed and maybe even shout at, or fall out with family and friends in the lead up to your wedding day...There, I said it.

But with a little planning and fore-thought you can avoid many of the potential danger areas. Below I will talk you through the toughest areas:
How Many Guests to Invite - No matter what you do you will risk upsetting someone here. The best advice I can offer is to sit down and set your budget. Once you have this done you will set your detailed budget and allocate how much you can spend on food, this will dictate your guest numbers.

If you want a proper sit down four or five course meal you will have to settle for fewer guests. If you want to invite more guests you may have to compromise on the amount of courses or type of food you serve. Either way it is going to be a balancing act.

Another approach is to list everyone you want to invite and then divide your food (and drink) budget by the number of guests to see how much per head you can afford to spend. I would advise sitting down to do this calculation as it may shock you (I now it really shocked my other half and I).

Who do You Invite - As above this is a biggie, Speak to your parents as they WILL have people who you don't really know who they feel "really ought to be invited" (probably at the expense of some of your friends).

You can at this point say no if you want but consider this; are your parents paying or contributing to the cost of the wedding? If they are you really need to consider their wishes but if not it's really up to you. Listen to their reasons for inviting these people and make your decision from there.

Who to invite to the Day and Who to The Evening - This can be a way of compromising on the guest list above. Some of the people who got pushed off the day list can be put on the evening list as the food costs for the evening will be less.
Do You Invite Children? - My advice is to make a decision and let your guests know, there is nothing worse than not dealing with this issue. If you don't guests will make their own minds up and you could end up with a dozen extra mouths to feed and nowhere for them to sit.

Make your decision and clearly state it on your invites.

The Seating Plan - This on isn't as bad as you just need to make the decision of splitting up people who know each other to try and get everyone talking to each other or letting friends sit at one table. Option one runs the risk of people being very slow to get talking and option two could lead to friends sitting at their table all night and not mixing with your other guests.
The Gift List - Again not as serious but stressful none the less. We asked for contributions towards our honeymoon rather than wedding presents (otherwise we couldn't afford one) and we were concerned about how guests would perceive this. Your older guests may feel this is a bit brash but we didn't hear any negative feedback, you do however need to word it carefully on the invites.
---
Latest articles on my-cheap-wedding.co.uk

Inexpensive Silk Wedding Bouquets.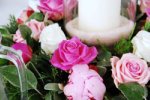 Many of you will be shocked by the price of wedding flowers and in particular the cost of hand tied wedding bouquets!

But you'll be glad to hear that there is an alternative, inexpensive silk wedding bouquets can be good quality if you know where to look and they are cheaper than hand tied fresh wedding bouquets from the florist.

You can get them in all the popular styles and colours and they will never be out of season. They have very many advantages over fresh flowers and very few disadvantages.

Oh and did I mention they will last forever. However, you need to know how to choose a good supplier over a poor one.
---
Tip of the month.
Get a checklist and use it
It's very easy to get yourself a checklist and then forget to use it. Believe me (it's why I created my own) we all start out with great intentions and gradually slip out of the habit of using it.
A good checklist is worth its weight in gold as it will keep you on top of what needs to be done at the early stages. The first stages are the most important as the pressure isn't on yet it is easy to say "I'll do that next week", but next week never happens, and before you know it your way behind and fast running out of time to get everything done.
If someone sent this e-zine to you or you haven't downloaded your FREE planner yet just click on the link to get it now.
---
Final Thought
Keep at it, I know it can get stressful from time to time but keep your head down, plan early and when something comes into your head do it, otherwise you will forget.

Have you got your FREE planner yet for whatever reason, just click this Free wedding planner link to it. Then simply open the zip file and you're ready to go.

See you next month,


P.S. Why not send this to a friend who is getting married, you might just save them a fortune!

If this was sent to you by a friend and you enjoyed it, then click here to see how to go about signing up for more copies of my FREE money saving e-zine and get a complementary wedding planner.