Inexpensive Silk Wedding Bouquets
How and Where?
More often than not, when you say inexpensive silk wedding bouquets many brides will immediately think of poor quality plastic artificial flowers you get at your local discount store.
That is however no longer the case, if you're prepared to look for good quality silk flowers you might just be surprised by the cost and more and more good quality suppliers are popping up all the time.
It's relatively easy to get really beautiful artificial wedding bouquets at a fraction of the cost of fresh flower wedding bouquets. But as you will see below there are a few things you'll need to be careful with.
So, what are the advantages and disadvantages of silk bouquets?
Advantages:
They're not seasonal - unlike real flowers silk bouquets don't have seasons; you can have any flower you like at any time of the year. I chose my colour before I had finalised the flowers only to find that the flowers I needed were just on the edge of their season (mine worked out ok, just). With silk wedding flowers you don't have to worry, if your chosen flower is out of season it doesn't matter, you will still be able to get it.

They last forever - you can keep them as a permanent reminder of your wedding day or maybe even give them to your daughter in years to come for her wedding day (they could be used as something old, something borrowed or indeed something blue)!
Very cost effective - cheap wedding bouquets can also be high quality wedding bouquets, but you'll need to check out your supplier well before ordering. Ask them if they supply samples (the reputable suppliers will be happy to), you will however normally have to pay for your samples. If they won't send a sample you should look elsewhere.
Huge Colour choice - because they are made from silk the colour choice is pretty much endless. Most suppliers will carry the standard colours for the most popular flowers available but if you do need an alternative colour they should be able to have them made up for you. However, once you deviate from the standard colours the price will increase.
Sturdier than real flowers - the heads won't fall off silk wedding bouquets and you won't need to have them made up the day before and placed in water etc. They will last the entire day without breaking, wilting or losing petals.
Cheaper than real flowers - Prices will vary from supplier to supplier but as always the online suppliers do tend to be the cheapest. You can expect to pay between £30-£50 for a typical silk wedding bouquet of roses or Tulips.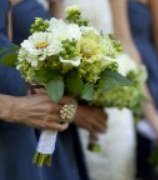 Disadvantages:
They don't smell like flowers - For obvious reasons you won't get that smell of fresh flowers (unless you cheat and spray them with whatever smell you like). You could mix in a few real flowers to give a nice fresh smell but that is added hassle and work. Personally I'd just stick with the silk flowers.

On close inspection you can tell they're not real, although very few of your guests will be close enough to notice. Besides they'll all be looking at you, not your flowers.
Where to buy your inexpensive silk wedding bouquets:
The best place to buy, or should I say the cheapest place is online. The down side is that you can't physically see the flowers (if necessary ask for confirmation that they are images on their website are of the actual flowers and not from image libraries). It's very important to choose a site with good quality images in which you can see the individual flowers clearly and get a sample sent to you (arrange this as early as possible).
It's good practice to order your silk flowers as early as possible. They won't wilt so it gives you plenty of time to liaise with the supplier should they have to be returned for any reason.
If you want a little extra detail you can dress your bouquet or get the supplier to dress it for you with your choice of wedding bouquet jewellery.
My top tip:
When ordering samples choose a flower that you can then use as button holes, for example if you order a few samples of roses and you are happy with the quality you can then use them as the button holes for the men.
Another cost effective alternative to silk wedding bouquets is to make them yourself. It's actually much easier than you may think and that way you will get the fresh flowers smell.

I chose a real flower bouquets over inexpensive silk wedding bouquets for my wedding, and looking back they did cause more hassle than I would have liked as my choice of flowers were just on the border of being out of season and a lot of visits to the florist. Don't get me wrong, they were beautiful but they were also more expensive than I initially thought (don't forget to factor in the cost of button holes, flower girls and bridesmaid bouquets etc.

Return from Inexpensive Silk Wedding Bouquets to Cheap Wedding Flowers.

Return to the home page.