Cheap Wedding Bouquets
Cheap wedding bouquets are something you should be considering as wedding bouquets can be costly.

This is because as they are quite labour intensive and often use exotic and expensive flowers.
If you go down the traditional route and use a florist you will likely get a fantastic bouquet. However these can be very intricate (expensive) and quite heavy (you'll probably end up carrying it for several hours during teh day).
If you decide to use a florist here are a few things you should consider before making your final decision on your wedding bouquets: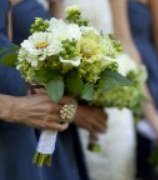 Choose local flowers that are in season - if they are in season and locally available they should usually be cheaper as you can avoid expensive transportation costs.
Keep the bouquet simple and small - this will keep the weight down and the fewer flowers the cheaper it will be. (My top tip – if you choose in season stems that have lots of flower heads per stem you will have to buy of them to fill out your bouquet. You normally pay per stem so this should make it a bit cheaper).
Go sparingly with tropical or exotic flowers - these do look fantastic in you pictures but they are more expensive than locally sourced flowers for the same reasons as stated above.
During the process of deciding on what you bouquet will be like you will need to consider the style and size of your bouquet before deciding on the size and type of the flowers you will use.
If you want a small simple bouquet you will want to stay away from large flowers such as sunflowers or Lilies for obvious reasons, something like Gerberas or (for my US readers Gerber Daises).
Equally, if you want a very simple single flower bouquet you should avoid smaller flowers and choose a large flower such as a sunflower or lily. Both of which can look stunning as single flower bouquets and they can be very cost effective.
The above steps will help you achieve your cheap wedding bouquets when getting them made at a florist. However, you can save even more money by locating your flowers carefully to make your own wedding bouquets.
All you need to do now is decide if you want to go down the DIY route or get a local florist to make them up for you. Another alternative which means you don't have to worry about timings (your flowers will only last a certain time so they'll have to be made up close to the wedding day) is to go for a silk wedding bouquet.
The very thought of making your own cheap wedding bouquet can send brides running for the hills but it's not as difficult as you may initially think. Take a look at my article explaining the process and watch the video which shows just how straight forward it actually is. Then if you still don't want to go down the DIY route you can use the above tips to help reduce the cost of your wedding bouquet.
Return from Cheap Wedding Bouquets to Cheap Wedding Flowers.

Return to the home page.