Bridesmaid Dresses - My Tips.
Welcome to the latest issue of "Cheap Wedding Gems".

This e-zine will keep you up to date with all my latest tips and money saving ideas for your perfect cheap wedding day.

If you enjoy this e-zine and know someone who is getting married please forward a copy to them so that they can benefit from the various articles.

If this e-zine was forwarded to you by a friend and you would like to see more then please follow this link to see how you can sign up for future issues (don't worry it's completely FREE).
---
Contents:
- Bridesmaid Dresses - Don't overlook them as they will affect your whole look on the day and your pictures

- Latest articles on my-cheap-wedding.

- Tip of the month.

- Final thought.
---
Cheap Bridesmaid Dresses - Start early and get them right.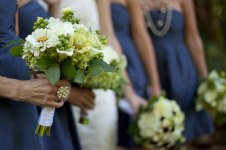 I know the most important thing on your mind is your own wedding dress, but it makes sense to consider your bridesmaid dresses at the same time.

You will need to allow enough time to choose the fabric and get your bridesmaid's approval (if you are allowing them input). Sometimes picking the bridesmaids dresses can be almost as complicated as choosing your own dress as there are more people to organise fittings around and more personalities to work with etc.

Depending on what you have decided to go for there are various ways of reducing the cost.

Negotiate with your wedding dress supplier - tell them "if I buy my wedding dress of you I want x% discount of the bridesmaid dresses or if I buy 4 dresses I want the fifth free" etc.

Buy them on the high street - most of the large high street stores offer bridesmaid dresses in large numbers of styles and colours. This can reduce your stress levels as there is less to organise, just buy and adjust as necessary.

If you have a very specific style in mind - you could always contact a local dressmaker to get a quote. Avoid specialist wedding dressmakers as they will be more expensive. TOP TIP, get a quote for a single dress for "a party" (don't mention wedding) then, once you have that quote ask how much it can be reduced by if you ordered 4 similar dresses(or how ever many you need).

The beauty of this is you don't pay wedding rates for the first dress and they will feel obliged to offer you a further discount when you ask them to make you several more in the same style. At this point it doesn't matter if you tell them it's for a wedding as they can't then increase the quote just because it's for a wedding.
---
Latest articles on my-cheap-wedding.co.uk

Funny Wedding Songs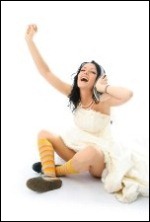 Wedding music tends to be something that gets left to the last minute. But the earlier you can make a little time to think about it the better.

Every time you hear a good song on the radio, write it down so that you don't forget it.

Funny wedding songs are a great addition to your day as they will get your guests into the party mood, and after all it is supposed to be a party.

The degree of "funniness" is another thing you should consider carefully as you don't want to upset any guests. You could substitute the traditional wedding march for "Another one bites the dust" by Queen or you could have a funny entrance song as they announce the bride and groom at the reception.

It is entirely up to you and your music should reflect your personality. If your guests expect it then let them have it.
---
Tip of the month.
Place you photos on-line:
If you are anything like me there will be guests who you really want to come who will not be able to make it for various reasons.
So why not upload your pictures to the web for them all to see immediately after (or during the wedding). My husband's cousin took lots of beautiful pictures on the day and uploaded them to his web page as he took them.
We were able to give a password to any guests who had informed us that they couldn't attend and that way there were able to see the pictures as they were uploaded throughout the day. Many of them said how much they appreciated this as it made them feel as if there were there with us.
---
Final Thought
I am sure you will all be watching as Prince William and Kate Middleton tie the knot on the 29th April and all of the team at my-cheap-wedding would like to wish them the best for the wedding day and the future.

Although they don't have to save money on their wedding day, even they can show us a few tips for reducing the cost (although for entirely different reasons to you and me). Both William and Kate had very low key stag and Hen nights and this is another great way of reducing you costs.

Don't forget to share your wedding stories with our other brides.

Enjoy the royal wedding and I will see you next month,


P.S. Why not send this to a friend who is getting married, you might just save them a fortune!

If this was sent to you by a friend and you enjoyed it, then click here to see how to go about signing up for more copies of my FREE money saving e-zine and get a complementary wedding planner.