Cheap Wedding Budget.
Welcome to the latest issue of "Cheap Wedding Gems".

This e-zine will keep you up to date with all my latest tips and money saving ideas for your perfect cheap wedding day.

If you enjoy this e-zine and know someone who is getting married please forward a copy to them so that they can benefit from the various articles.

If this e-zine was forwarded to you by a friend and you would like to see more then please follow this link to see how you can sign up for future issues (don't worry it's completely FREE).
---
Contents:
- Cheap Wedding Budget- Getting it right at an early stage will save you money.

- Latest articles on my-cheap-wedding.

- Tip of the month.

- Final thought.
---
Your Cheap Wedding Budget- Look after the pennies...
I've lost count of the number of brides who shrug when I ask them is the have prepared their budget before planning their wedding. You would be amazed how many brides just jump in with both feet without a well thought out wedding budget. I know it's exciting to get started on what will be the happiest day of your life. But it's even more exciting when you see just how much money you can save if you plan correctly.

So before you do anything get your other half, sit down and talk about what you can afford, what you want and how much you can REALISTICALLY put away between now and the big day.

Use the tips and pointers from my article on cheap wedding plans as there are some things that you should consider before others.

Once you have established exactly what you both want out of the day then you need to spend a little time drilling down into the overall budget to set a wedding budget for each individual aspect of your wedding. After all getting the overall budget right is no good if you don't know how much has been allocated for the dress or the flowers etc.
---
Latest articles on my-cheap-wedding.co.uk

Wedding Balloon Decorations.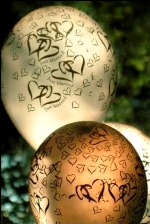 Wedding balloon decorations are bigger in the States but more and more brides are coming round to the idea of wedding balloons in their many forms from wedding balloon centrepieces to wedding balloon arches. The added bonus is that they are cheap to make and can help you reduce the need for as many flowers thus helping keep your flower budget low.

I know what you are thinking "I wouldn't be able to make a balloon arch and bringing in the professionals would be too expensive". But that's where you're wrong; balloon arches are easy if you follow my simple pointers. I should however point out that wedding balloon decorations are not without their disadvantages.
---
Tip of the month.
Get three quotes :
I know it can be a hassle but believe me if you get three quotes you will be sure you are getting the best price, and one of my husband's best tips is; tell them that you are getting quotes and that you are talking to other suppliers before they give you a price. If they know you are shopping around and they are keen to get your business you will get a better price.
Then once you have all your prices you can still go back to the one you like best and use the others to try and negotiate the price down a little further. Trust me, getting three quotes can often be your best negotiating tool.
---
Final Thought
Happy new year to all my readers and I hope 2012 is your best year yet.

So far this winter we've been blessed with mild weather but the nights are still long. So why not make the most of them and snuggle up with your other half in front of the fire.

It's a great time to go through the more detailed parts of your wedding budget and try to shave a few pounds off here and there. It is also a great time to talk to your other half and find out what he would like to see at your wedding.

Have you got your FREE planner yet for whatever reason, just click this Free wedding planner link to it. Then simply open the zip file and you're ready to go.

See you next month,


P.S. Why not send this to a friend who is getting married, you might just save them a fortune!

If this was sent to you by a friend and you enjoyed it, then click here to see how to go about signing up for more copies of my FREE money saving e-zine and get a complementary wedding planner.