Cheap Wedding Bands.
Welcome to the latest issue of "Cheap Wedding Gems".
This e-zine will keep you up to date with all my latest tips and money saving ideas for your perfect cheap wedding day.
Don't forget to check out the "my-cheap-wedding" facebook page If you enjoy this e-zine and know someone who is getting married please forward a copy to them so that they can benefit from the various articles.
If this e-zine was forwarded to you by a friend and you would like to see more then please follow this link to see how you can sign up for future issues (don't worry it's completely FREE).
---
Contents:
- Cheap Wedding Bands - Don't fall into the trap of paying top money for your wedding rings. There are lots of ways to keep the cost down!

- Latest articles on my-cheap-wedding.

- Tip of the month.

- Final thought.
---
Cheap Wedding Bands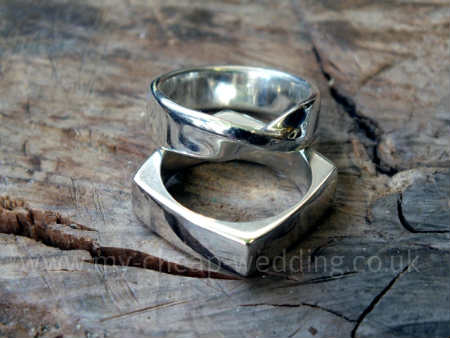 Just because you want cheap wedding banda doesn't mean you have to settle for poor quality wedding rings.

There are loads of ways you can reduce the cost of your wedding rings without compromising on their quality. Check out my articles to see which method would best suit your requirements...

Choosing the Metal: when choosing the metal for your rings you need to consider the weight of the rings (especially if your partner doesn't normally wear a ring).

You probably already have a pretty clear idea of what type of ring you want. However, make sure you're aware of the different types of metals available and the cost implications of each. Platinum, palladium even silver.

It'is easy to just go for a particular look and not stop to think about alternatives that may be cheaper while still having the look you're after.

Do you want diamonds?: Many brides assume they don't have the budget for a diamond wedding ring (me for one). But if you're careful you can get a diamond wedding band for a LOT less than you think. Just follow my simple rules.

Want a unique ring?: maybe you need a unique wedding ring to fit snugly against your engagement ring or perhaps you just want to have a one-off. Here are my tips for getting the ring you want without breaking the band

Men's Wedding Rings: many men don't normally wear rings prior to their wedding ring so it's important to make his wedding ring as comfortable for him as possible.

There are lots of ways to achieve this e.g. using a different ring profile or a lighter metal etc. Get more here.

Where to buy your wedding rings: this is a biggie, by following the simple pointers in the above articles you should be able to save a lot on your weddinng rings by simply buying them in the right place.
---
Latest articles on my-cheap-wedding.co.uk

Wedding Ring Profiles.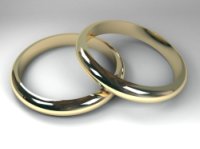 Getting the profile of your wedding ring right is important for comfort. Especially if your other half doesn't normally wear a ring. Here's my simple guide to the most common wedding ring profiles for you to have a look at. They shouldn't really alter the price so it's worth getting one that you're comfortable with
---
Tip of the month.
Stop and think before buying anything for your wedding:
It's so easy to get carried away when out sourcing things for your wedding and before you know it you're bought loads of things without really thinking about it.
Rather than falling into this trap try the following simple exercise before buying anything.
1. Do I really need this or do I just want it?
2. Will I actually use it?
3. Is it within my budget?
If you answer any of these questions with a no then walk away and don't buy it.
It's also a good idea to try not to buy on a whim. If you see something you really like, don't buy it there and then. Take 24 hours to think about it. Then if you still think you need it have a quick look for cheaper suppliers on the internet before going back to buy it.
---
Final Thought
Consider the big high street stores for cheap wedding cakes. You might be surprised at their choices and the cost.

Until next month...





P.S. Why not send this to a friend who is getting married, you might just save them a fortune!
If this was sent to you by a friend and you enjoyed it, then click here to see how to go about signing up for more copies of my FREE money saving e-zine and get a complementary wedding planner.