Wedding Ring Profiles
The various wedding ring profiles available to you will have an impact on more than just how your wedding ring looks.
It will also affect how comfortable it is to wear, and while this may not have a huge effect on you, your other half may be more concerned.
There are lots of different wedding ring profiles out there so I am just going to look at the more common styles as the others tend to be variations of these more common ones. Before I go any further I should explain what I mean by the profile of a wedding ring. If you were to take your ring and cut it in half as in the pictures below, this cross section is the ring profile.
Why So Many Choices?
There are practical and fashion reasons behind the different wedding ring profiles, and the easiest way of going through these is to look at each profile individually and explain its merits and disadvantages.
The flat profile: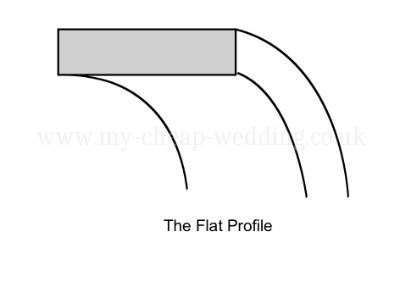 As the name suggests this profile is flat with sharp square corners. It could be described as fashion over function. With its low profile and sharp corners it is very contemporary and there is no doubt it looks good. Provided the ring is thin it should be fairly comfortable to wear, but as you will see below there are more comfortable ring profiles.
The Court Profile:

This profile offers a broad wedding ring with a gently rounded top and bottom section. The curved bottom or inner surface which goes against your skin, offers a very comfortable experience. My husband's wedding ring has this curved inner surface and he was amazed at how comfortable it was from the moment he tried it on.
D-Shaped: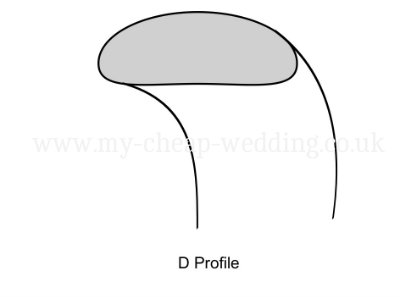 A D-shaped wedding ring profile has a flat inside edge with a rounded outside edge. When on your finger it appears as if it is a court shaped ring.
Reverse D-Shaped:
As the name suggests this ring is curved on the inside for comfort with a flat outer edge. It offers the contemporary look with the comfort of a court ring. This style is particularly popular with men who don't normally wear a ring and want to get the modern look with the minimum discomfort.
Round: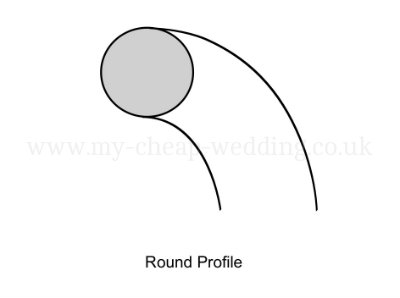 The round profile is a very contemporary style and won't appeal to everyone. This style means the ring will be very thick. The downside of this profile is that it can quite uncomfortable to wear as it will dig into your fingers either side of your ring finger.
---
A good way of checking the comfort level of your ring (apart from the immediate feeling you get after trying it on) is to shake hands with yourself. When doing this you squeeze your fingers together and you'll know straight away if you want the ring. This is especially relevant if you are left handed as you will have to shake hands with people all the time and the last thing you want is to be in excruciating pane each time you do.

As I've already said above there are other wedding ring profiles out there but they tend to be variations on the above so you should be able to get pretty much any profile you want. But my top tip would be to try on as many different wedding ring profiles as possible before you decide which one to go for.

My now husband decided many years ago that he wanted a round or halo profile after his friend got one. But as soon as he tried one on in a jewellers he was instantly put off the idea as he felt it was just too uncomfortable. Don't forget you will both be wearing your wedding rings for a long time so it makes sense to choose rings that are going to be comfortable.

Return from Wedding ring profiles to Cheap wedding rings.