My Favourite Top Money Saving Tips - Part 2.
Welcome to the latest issue of "Cheap Wedding Gems".

This e-zine will keep you up to date with all my latest tips and money saving ideas for your perfect cheap wedding day.

If you enjoy this e-zine and know someone who is getting married please forward a copy to them so that they can benefit from the various articles.

If this e-zine was forwarded to you by a friend and you would like to see more then please follow this link to see how you can sign up for future issues (don't worry it's completely FREE).
---
Contents:
- Top Money Saving Tips - Part 2- The second in a series of special editions sharing my favourite money saving tips for your wedding day.

- Latest articles on my-cheap-wedding.

- Tip of the month.

- Final thought.
---
Think laterally when it comes to your wedding dress - there is always a way of reducing the cost.
It doesn't matter what style of wedding dress you have in mind, there is always a way of saving money on it. Now some of these methods you may not want to do and that's OK they may suit you or they may not. You are the only person who can make that final decision.
Black wedding dresses - very in fashion this season and you can save big money this way. And it's actually pretty straight forward...
Used wedding dresses - ok I know this can be a bit of a taboo subject with some of you, but there are big savings to be made buying someone else's dress that was worn once. But be careful there are some things you need to check before you start buying if you want to avoid potentially high additional costs...
Simple wedding dresses - not only are they timeless and elegant but less detailing normally means lower cost...
These are just a few of the many ways you can get a cheap wedding dress but for more check out the cheap wedding dress section.
---
Latest articles on my-cheap-wedding.co.uk

Vintage Wedding Dresses.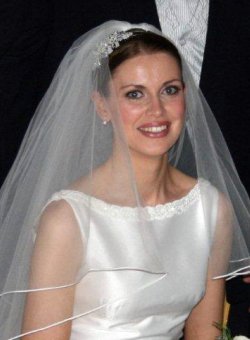 Vintage Wedding Dresses are a great way of achieving that classic look that can make your wedding pictures timeless. They don't even have to cost the earth provided you know where to look...
---
Tip of the month.
Don't Feel You Have to Keep Up With The Jones':
I've said it before but it can be difficult if your sibling or friend had a big wedding with all the bells and whistles. It's only natural that you would want your special day to be just as good. I would however offer a word of caution, during the lead up to your wedding it is the main focus of your life and usually the most important thing in it. But please keep things in proportion, it is just one day (albeit a very special day) and when it is over you will have the rest of your lives together to think about the debt you could put yourself into by over stretching your budget.
As an example the Sun recently ran a story of a property developer who went bankrupt during the recession but felt he had to keep up the appearance that he had money by having a lavish wedding. During the ceremony he was approached about the additional £15,000 that remained unpaid. He was seen on CCTV rowing with staff and entering a room where a fire later broke out burning part of the venue. He was found guilty and was sentenced to 6 years in prison.
I appreciate this is an extreme example but it gets the point across fairly well... So don't go over your budget.
---
Final Thought
Don't forget to make time for yourself and your other half. It's easy to get caught up in the whole wedding planning whirlwind and forget to make time for each other. You don't have to spend a lot of money just spend some quality time, maybe watching a DVD or snuggling on the sofa watching TV after all your spending time with your other half is really what makes things worthwhile.

Until next month...


P.S. Why not send this to a friend who is getting married, you might just save them a fortune!

If this was sent to you by a friend and you enjoyed it, then click here to see how to go about signing up for more copies of my FREE money saving e-zine and get a complementary wedding planner.