Cheap Wedding Rings - My Tips.
Welcome to the latest issue of "Cheap Wedding Gems".

This e-zine will keep you up to date with all my latest tips and money saving ideas for your perfect cheap wedding day.

If you enjoy this e-zine and know someone who is getting married please forward a copy to them so that they can benefit from the various articles.

If this e-zine was forwarded to you by a friend and you would like to see more then please follow this link to see how you can sign up for future issues (don't worry it's completely FREE).
---
Contents:
- Cheap wedding rings - The different types available, where to get them at good value and the practical things to consider.

- Latest articles on my-cheap-wedding.

- Tip of the month.

- Final thought.
---
Wedding Rings - Your Permanent Reminder of the Day .!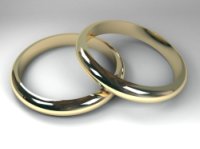 The one constant reminder of the wedding day that you will always have on your person is your wedding ring. Believe me; every time you look at it on your finger you will get flashbacks to your wedding day. So for this reason and because you will be wearing it for the rest of your life you need to get it right when you are choosing them.
Choosing the material: I am sure, like me, you already have a pretty clear idea in your head what sort of ring you want. However, you should consider the different materials and how they will wear etc. It is easy to just go for a particular look and not think about future maintenance and how hard wearing the rings will be.
Choosing the right metal: when choosing the metal for your rings you need to consider the weight of the rings (especially if your partner doesn't normally wear a ring), the cost (obviously), how hard wearing it will be and if it can be adjusted or repaired in the future (not all of them can).
Do you want diamonds? : It is possible to get diamonds on your wedding band within budget if you know what to look for and what the my little "cheats" for buying diamond wedding rings are.
Do you need a unique ring?: maybe you need a unique wedding ring to fit snugly against your engagement ring if it is an unusual shape. There are lots of unique rings available and they don't always have to be custom made.
Men's Wedding Rings: many men don't wear rings and if your other half is like this you should try to make the ring as comfortable for him as possible. This can be achieved by using a different ring profile or perhaps a lighter metal. If you want diamonds and you want his ring to match yours you may need to go for a plainer style to match his and consider only getting a few diamonds in his (if he has a manual job you may want to think long and hard about getting him a diamond ring).
Where to buy your wedding rings: like my other half and I, I am sure you are keen to save as much as possible on your wedding rings and there are ways of getting what you want and still saving money. Consider buying a wedding ring set or buying online. Use my articles to get more ways of keeping the cost of the wedding rings as low as possible.
---
Latest articles on my-cheap-wedding.co.uk

Picture Wedding Invitations.


Trust me... The earlier you can start thinking about your invitations the better, as it always takes longer than you will think to sort them out. Picture wedding invitations are a great way of personalising your invites and they can also be a cheap option. All you need is a good quality picture of you and your other half or the venue etc.

It is then relatively simple to have this printed onto invitations.
---
Tip of the month.
Make unique thank you cards:
1. Find a good quality picture you want to use and print it onto acetate (clear plastic).
2. Buy card kits online or make them yourself - Cut the card into a section 3 times wider than the finished card needs to be and mark two vertical creases at even spacing (AA and BB). These will be your fold lines. Then on the left section cut a square or rectangle out of the card with a craft knife (see dotted line on the diagram).
3. Cut your picture so that it is larger than the section you have cut out. Then stick your acetate picture onto the card where the space is and then fold the left section along the crease (AA) and glue it down to the middle section.
4. Print a simple insert and glue it (grey line) onto the right section of the card and hey presto you are ready to go.

---
Final Thought
Well we are now far enough into 2011 that the novelty has worn off and the New Year's resolutions are starting to fall by the wayside. However you can't afford to let your wedding plans slip. If you feel you are loosing momentum write a list of everything you still have to do (check on my wedding checklist) and that will help motivate you. Don't panic if it all seems a bit much I am always here to help.

See you next month,


P.S. Why not send this to a friend who is getting married, you might just save them a fortune!

If this was sent to you by a friend and you enjoyed it, then click here to see how to go about signing up for more copies of my FREE money saving e-zine.