Cheap wedding Budget - My Tips.
Welcome to the latest issue of "Cheap Wedding Gems".

This e-zine will keep you up to date with all my latest tips and money saving ideas for your perfect cheap wedding day.

If you enjoy this e-zine and know someone who is getting married please forward a copy to them so that they can benefit from the various articles.

If this e-zine was forwarded to you by a friend and you would like to see more then please follow this link to see how you can sign up for future issues (don't worry it's completely FREE).
---
Contents:
- Cheap Wedding Budget - Your budget is the most important aspect of your day to get right. If you don't sort the budget early you WILL pay (literally) for it later.

- Latest articles on my-cheap-wedding.

- Tip of the month.

- Final thought.
---
Cheap Wedding Budget - Start early and get it right.
I know you have probably heard this from several people, but I really can't emphasise it enough. Getting your wedding budget sorted early is probably THE most important thing you can do to ensure that you don't over-spend.

First things first, take some time, just the two of you, and have a candid talk about how much you can afford to save between now and the big day (be realistic).

Consider cancelling a few non essentials such as reducing your sky TV subscription or cutting back on the number of wedding magazines you are buying. (Try adding up the cost of one months worth if you want to scare yourself, trust me, I was there once and that little calculation stopped me in my tracks, and started me thinking about building my-cheap-wedding.co.uk).

If your parents want to contribute, ask them how much they want to give so that you can come up with an accurate budget. Then follow these simple steps:

1. Decide on how many guests you want to invite - this is a big one as feeding your guests can make up around 45% of your budget. Obviously the fewer guests the lower the catering costs. But bear in mind your parents will have certain guests that they feel should be invited (even if you don't really think these people need to be invited). These family politics ALWAYS come up so be prepared to face them.

2. Prepare a detailed budget - once you know approximate numbers of guests and how much you can spend, you can then start preparing your detailed budget. This will involve allocating your budget to the various aspects of the day from the obvious items like the wedding dress to the less obvious items like the marriage license and hiring the music equipment etc.

3. The detailed budget is not cast in stone - you can use my free detailed budget as a guide but please bear in mind that it is only a guide. Perhaps you have already found a second hand dress at a huge saving and want to re-allocate some of the dress budget to flowers or perhaps you have a guest who has offered to make your cake for you as a wedding present etc. Don't worry, you can move aspects of the budget around to suit your own tastes.

The important thing is that once you have your detailed budget set up make sure you stick to it. If you overspend in one area you will need to reduce your costs in another. And don't be fooled into thinking "I'm only over by £50 on the dress, so I don't need to readjust anything else". This is a very common mistake that we are all tempted to do, but five items that go over by £50 makes an overspend of £250.
---
Latest articles on my-cheap-wedding.co.uk

Cheap Wedding Decorations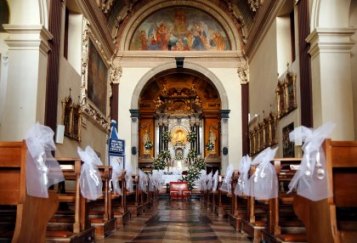 Don't feel that you have to spend a lot of money on your decorations.

There are hundreds of fantastic decorations out there that don't cost very much and sometimes are completely free.

All you have to do is think about what suits your style and personality and be a little creative. The beauty of this method is that nine times out of ten you will end up with something that is totally unique that your guests will never have seen before.

If you are struggling with ideas I have listed some of my favourites in my article on cheap wedding decorations for you to consider.
---
Tip of the month.
Be Neat:
When you are planning your table settings and decorations remember that to create a visual impact you don't have to overwhelm your guests with decorations and details.
Some of the most jaw dropping table settings I have seen have been the simplest. The key point to remember is getting the detail correct. In other words make sure the glasses are all sparkling then make sure every setting is exactly the same.
Once you have the table set go to the end (if the tables are rectangular) and look down the table. Do all the glasses line up, do all the plates and flowers etc line up? If not readjust them and have another look. It's the little things like this that make all the difference.
If you are using circular tables make up a template out of cardboard so that you can place the wine glasses, cutlery etc at the same distance from the plate for all the place settings.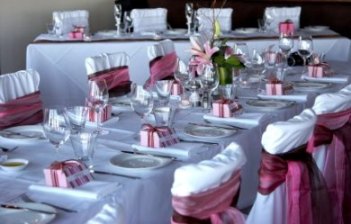 ---
Final Thought
Don't forget to share your wedding stories with our other brides. After all we are all in the same boat and if you can help someone else they might just return the favour and share a great idea with you.

See you next month,


P.S. Why not send this to a friend who is getting married, you might just save them a fortune!

If this was sent to you by a friend and you enjoyed it, then click here to see how to go about signing up for more copies of my FREE money saving e-zine and get a complementary wedding planner.