Wedding Reception Table Decoration
How to Get it Right
Wedding reception table decorations are something you do need to think about.
We all want to create that wow factor as our guests walk into the reception room for the first time and the wedding table decorations play a major role.
Don't forget rule number one, less is more. Tie your table decorations into your overall theme. Your bridesmaid colours can be added to flowers or place settings, table runners etc.
Table decorations for weddings are often made over complicated creating a very busy effect. Don't feel you have to go overboard. If you look at any photographs of professionally set wedding table decorations you will notice a common thread. They are nearly always simple and elegant.
This might sound really obvious but don't forget that when you are costing the table decorations, you need to multiply the cost by the number of tables you are having. It's really easy to get carried away and keep adding 'stuff' until your table looks very busy. When decorating your tables, every so often you should take a step back to the other side of the room and check out what you've done so far.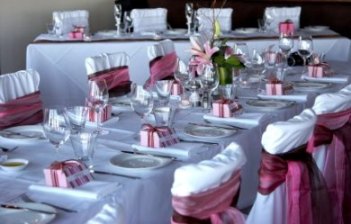 My advice with regard to wedding reception table decoration is to do the minimum first and then if you feel its necessary you can add an element at a time to the table decorations until it looks perfect.
The minimum you will likely want as a start position is a table cloth (traditionally white) your cutlery, crockery and glasses, a centrepiece and your wedding favours and napkins. I found it was a great help to set up a dummy table at home and dress it there until I got the look I wanted. It's then simple to calculate numbers of each item you will need for the real day.
When using this approach you can start with the basics and then, if you want, add items like larger centrepieces, chair covers, champagne glasses for toasting, more expensive cutlery etc.
Have a look at the pictures above and below and you'll see that this simple style of
wedding reception table decorations can be very effective (even without a table cloth).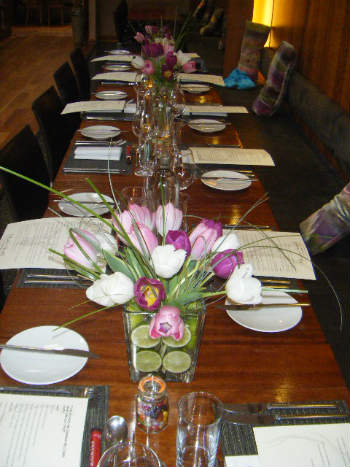 My Top Tips:
1. Cheap Chair Covers. - decide if you want chair covers as these can have a huge visual impact on the entire room as well as your table decorations. If you do go for chair covers, you should keep the table decorations quite low key. Remember you don't have to have chair covers if the chairs at your wedding venue are of a decent standard. If the chairs are ok, consider tying the colour of the chairs into your overall theme.
2. Table centrepieces - when organising your table centrepieces you need to consider your guests. When seated, will your chosen centrepiece obscure their view across the table? If guests can't make eye contact with each other across the table they may be less likely to engage in conversation. So it may reduce the atmosphere at your wedding. Either keep them below or above eye level.
3. Cutlery, crockery and glassware - if your venue doesn't supply these, renting these from wedding crockery hire companies or tableware hire companies is normally the cheapest option. Plus many of them (for an additional fee) will let you return the place settings dirty for them to clean. So rather than buying cheap plates etc. by hiring you will get good quality items that will help complete the look. It's very hard to make a table look beautiful with cheap plates and glasses or paper plates.
Once you have got to this stage all you need to do is decide what if anything you want yo add to your table decorations. For example chair covers, your wedding favours, larger wedding centrepieces or maybe even wedding balloon centrepieces.
So when you are deciding on your wedding reception table decoration, take your time, consider your overall theme and don't forget my golden rule less is more. Not only will they look better but simple wedding decorations normally cost less.
---
Get your FREE copy of my wedding planner:
It includes tools to help you plan your budget, seating, track invitations, meal choices, presents and much more. It will significantly reduce your work load and all the tools are really easy to use.
Simply subscribe to my FREE monthly "cheap wedding ezine" which automatically sends all my latest money saving tips and articles directly to your inbox (I will never spam you or sell your details to anyone else).
Fill out the form below and you could be working on your wedding planner within minutes.
Return from Wedding Reception Table Decoration to Wedding Decorations.

Return to the home page.