Cheap Wedding Favours
Wedding favours (or wedding favors as our US friends spell it) are a long established tradition which started in Italy and Greece.
Historically favours would consist of five (a prime number so it can't be divided) sugared almonds representing health, wealth, happiness, fertility and long life.
Sugared almonds continue to be used as favours today and they do make very cheap favours. However, they are getting less popular, with young couples now giving more unusual favours to their guests that say something about the couple or ties in with their theme.
The beauty of coming up with your own favours is that they can be anything you want, meaning they don't have to be expensive. Provided your guests can look at them and immediately associate them with the two of you or the theme of your wedding, then the cost is irrelevant. If you take a little time and think about your theme, you should be able to come up with wedding favours that will suit not only your theme but also your personalities.
Some of my favourite wedding favour ideas:

Individually wrapped chocolates - these can be decorated with ribbons or bows to match the colours of your theme. They can be a little fiddly and time consuming to wrap but the chocolates will be cheap. The potentially expensive bit is putting them in boxes and buying ribbon or bows etc. (you could always do without the boxes).


A little packet of personalised "Love Heart" or M&M sweets - these are easily available online and make a cheap and unique wedding favour. The love heart sweets can be pre-printed with your names, wedding date or a message etc.


Packets of flower seeds - perhaps you're keen gardeners or just like the idea of people planting flowers that will always remind them of your wedding day.


A stick of rock - again these are easily available online and can be personalised with your names and/or the date of your wedding.


A lottery ticket - (who knows you might not be the only one whose life changes for the better on your big day).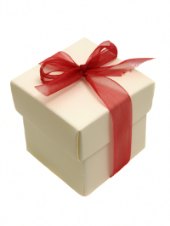 Themed favours:

By taking some time you can tailor your favours to your theme without breaking the bank
Location based favours - for a Scottish wedding or an Irish wedding these could be as simple as a piece of Scottish or Irish shortbread tied in a ribbon or family tartan made into a key-ring with the date of your wedding or a picture of you both. Or Irish or Scottish whiskey miniatures.


Blackpool weddings could have sticks of rock with your name and wedding date through the centre.
You'll know what your local area is famous for better than I could, but most areas have something that could be used as a favour without spending a fortune.

---
Your favours, whether bought or home-made can easily be dressed up to look professional by buying individual boxes or bags online and then tying them with ribbon in a colour to match your theme.
The list of possible wedding favours is endless and you should be able to come up with ideas that you can achieve for a few pence per favour to a pound or two. If your guest list is very small you may wish to spend a little more on the favours.
You don't have to get everyone the same favour. Your male and female guests can get different favours, but bear in mind you will have to pay close attention to the table plans when setting them out. It's also a good idea to make up fun packs for small children, as they'll help keep them occupied (and quiet) during speeches etc.

If you only take one thing away from this article it should be that your wedding favours don't have to be expensive - it's the thought that goes into them that your guests will appreciate the most. Check out my article on gift ideas for your wedding guests for more ideas on easy yet beautiful favours.

In conclusion your choice of wedding favours is endless and only restricted by your imagination. Use my pointers and tips to get your perfect favours that your guests will love!
Have You A Great Suggestion For Cheap Wedding Favours?
Do you have a great story or suggestion about this? Share it!
What Other Visitors Have Said
Click below to see contributions from other visitors to this page...

Thank you scrolls and shot glass sweets Not rated yet
During the lead up to our wedding we had made the decision to try and save as much money as possible, and felt an obvious place to do this was on the wedding …
Return from Wedding Favours to Wedding Decorations.

Return to the homepage.