Cheap wedding Cakes - My Tips.
Welcome to the latest issue of "Cheap Wedding Gems".

This e-zine will keep you up to date with all my latest tips and money saving ideas for your perfect cheap wedding day.

If you enjoy this e-zine and know someone who is getting married please forward a copy to them so that they can benefit from the various articles.

If this e-zine was forwarded to you by a friend and you would like to see more then please follow this link to see how you can sign up for future issues (don't worry it's completely FREE).
---
Contents:
- Cheap Wedding Cakes - Don't overlook the cake, it doesn't have to be very fancy or over the top but it will be one of the major focal points of the day.

- Latest articles on my-cheap-wedding.

- Tip of the month.

- Final thought.
---
Cheap Wedding Cakes - Start early and get it right.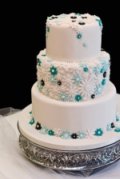 Ok, let's get something straight cheap wedding cakes do exist. You do NOT have to spend a fortune on a wedding cake. It is your day and you can do it whatever way you want. If you want to have a fondant or chocolate cake over a traditional fruit cake then go for it. They have the added benefit of being cheaper!

There are always ways of reducing the cost of the wedding cake, below are a few of my favourites but there are many more. All you have to do is give it a little thought, so start early and enjoy the process.

1. Make your own wedding cake - granted this is probably not for the faint hearted, but if you know your way around a baking bowl then it is a cheaper option. You will need to know the guest numbers so that you can get the size of the cake right. There is nothing worse than having a cake that will feed 60 guests when you have invited 100!

2. Buy the cake - most of the large retail outlets such as Marks and Spencer etc sell wedding cakes and plain fruit cakes that can then be decorated to your own taste.

3. Alternative cakes - make or buy fondant or chocolate cakes and have them decorated to suit. More and more brides are choosing this in addition to the traditional fruit cake. For example a bottom tier of fruit cake a middle tier of fondant and a top layer of chocolate cake. That way you can cater for all your guest's tastes.

4. Food allergies - always ask your guests to advise you of any food allergies so that this can be taken account of when baking the cakes.

5. Get the wedding cake design right - it is easy to get carried away with fancy and intricate designs, but bear in mind that the more detailed the design the higher the bill will be. In my humble opinion less is more. Simple wedding cakes can look stunning.
---
Latest articles on my-cheap-wedding.co.uk

Wedding Aisle Decorations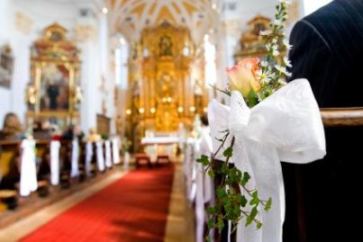 Some of you may be considering not having any decorations in your service location in order to save some money. But regardless of whether or not you are having a church wedding you should at least consider your wedding aisle decorations.

They are not essential, but they will help lift the venue. You should also consider your guests, who will likely have been sitting in the venue for some time waiting for you to arrive. So they will have lots of time to look around and drink in all the decorations.

As with everything in my website, the individual items do not have to be expensive or over the top. Check out my articles on cheap wedding aisle decorations and cheap wedding pew decorations for lots of simple ideas on how to decorate your service location without breaking the bank.
---
Tip of the month.
Start Early:
No matter what aspect of your wedding you are currently thinking about (I know, you are constantly thinking about 50 items at once). The best advice I can offer for all the aspects of your wedding is to plan early.
There are some items that will require more time than others and my wedding checklist will help you get them in the right order, but do start early. If you get an item sorted early there is no harm dome but if you run out of time you will be overly stressed and end up settling for something that you would otherwise not have chosen.
---
Final Thought
By the time you are reading this you will all have seen Katherine marry Prince William in her fabulous dress which has since received international acclaim. If you loved it, as I did, you can expect it to be available on the high street shortly (and at a much lower price than the original).

Hopefully it will have given you a boost to kick-start you wedding plans and get you fired up to achieve an equally beautiful wedding but on a fraction of the budget. Trust me it can be done.

Don't forget to share your wedding stories with our other brides.

See you next month,


P.S. Why not send this to a friend who is getting married, you might just save them a fortune!

If this was sent to you by a friend and you enjoyed it, then click here to see how to go about signing up for more copies of my FREE money saving e-zine and get a complementary wedding planner.