Beautiful Wedding Aisle Decorations
Can be Affordable
Wedding aisle decorations help to set the mood for your guests. They are one of the first decorations of the day that they see and form the backdrop for the first time they get to see you in your dress.

The good news is it's easy to create beautiful, elegant and cheap wedding aisle decorations. The main rule is not to go overboard on the flowers as these are likely to be the most expensive part of your decorations.
My advice would be to only have a few feature displays and/or maybe some simple flower arrangements as wedding pew decorations.
Some simple ideas for wedding aisle decorations are as follows:
Carpet - many brides want a red or white carpet, but I would suggest that you use whatever is already there. Bringing in a specific carpet will be expensive and provided you complement what's already there no-one will think it's out of place.

As an example, when I got married our venue had a rough stone floor, but rather than cover it we decorated the walls with candles and tea-lights and hung white voile from the ceiling to make it look rustic and tie in the stone floor.

Flower petals - these can look fantastic and they are easily available on-line, either freeze dried or preserved so that they last longer. You should however be careful as the preserved petals can stain and they can be quite expensive if you are hoping to cover the entire aisle. You could even make your own from flowers picked from your local hedgerow.


If you're concerned about flower petals staining your dress of a carpet at the venue or church you could use the freeze dried variety as they're less likely to stain (but always check).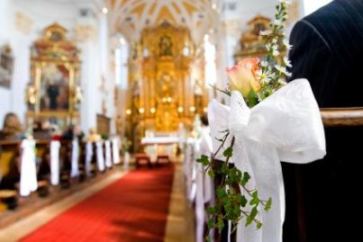 Candles - these are always a great way of creating an atmosphere, especially if you are in an old or dark church/venue. You should always ask the venue or church before you order candles or tea-lights (cheaper than candles) as they may require them to be in some sort of protective housing such as tea-light holders or lanterns. It's a good idea to keep them off the ground where they could get kicked over.

Tulle (or Voile) – tulle and/or voil, along with flowers, isa very popular way of decorating an aisle, and for good reason. It bulks out flower arrangements meaning you need less flowers and therefore save some money. Tulle (or voile) can also be used to decorate around the bottom of flower displays on candelabras, at the ends of the pews or even to cover unsightly cables etc from the P.A. system.
There's always a way to create cheap wedding aisle decorations that will suit your taste, budget and the venue. If I were to offer one top tip, it would be to keep it simple. Try to work with what you already have at the venue or church, and ask if you can make use of any other decorations they may already have. Chances are they'll be happy to!
Return from Wedding Aisle Decorations to Wedding Decorations.