Cheap Wedding Decorations.
Welcome to the latest issue of "Cheap Wedding Gems".

This e-zine will keep you up to date with all my latest tips and money saving ideas for your perfect cheap wedding day.

If you enjoy this e-zine and know someone who is getting married please forward a copy to them so that they can benefit from the various articles.

If this e-zine was forwarded to you by a friend and you would like to see more then please follow this link to see how you can sign up for future issues (don't worry it's completely FREE).
---
Contents:
- Cheap Wedding Decorations- Think before you do anything and save money!

- Latest articles on my-cheap-wedding.

- Tip of the month.

- Final thought.
---
Your Cheap Wedding Decorations - A moment's thought can save you a lot of money.
Cheap wedding decorations don't have to look cheap, but the secret is to prepare exactly what you want before you go out and buy anything. I've lost count of the number of brides I talk to who have had an idea pop into their heads for cheap easy wedding decorations and they shot down to the shops and bought 15 glass vases or 100 tea light holders only to find that the following day they've changed their minds and wasted all that money.

So rule number one is don't panic, relax and think about what you want in the finest detail you can, then and only then should you act.

Your wedding decorations can be split into a number of different sections such as:

Chair covers - do you want them or not?

Wedding favours - an area where you can easily spend a lot if you don't concentrate.

Wedding balloon decorations - unbelievably easy when you know how!

Wedding aisle decorations - don't get carried away just follow my easy tips.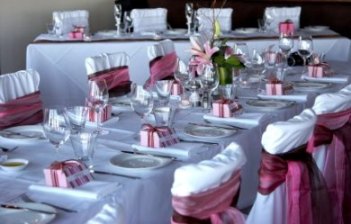 ---
Latest articles on my-cheap-wedding.co.uk

Wedding Car Rental.
Wedding car rental is one of those things we all tend to leave to the last minute (yes, I did too until I spoke to a friend). But there are more things than you might imagine which will need to be considered.

But thankfully you can learn from my mistakes and get it right first time. In the article I will even share a few ways to negotiate the price down a little more and I'll tell you about the times of the year the car hire firms fill up really quick and they may not be the times you were thinking off.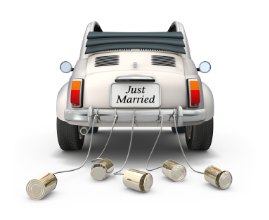 ---
Tip of the month.
Winter Wedding Tips:
Ok, so it's not snowing (yet) and the weather here is pretty mild but it's still romantic to think of your winter wedding snuggled up to the one you love in front of a log fire. So I thought I share a couple of quick winter wedding ideas with you:
Think rustic, jam jars with sprigs of holly berries make great table decoration, piles of logs and candles help set the mood and if you use a rustic theme there is no reason why 70% of your decorations can't be made, borrowed or picked up from local wooded areas.
---
Final Thought
Now's a great time to get your laptop out in the long evenings and spend a little time exploring my site in more detail there are hundreds of articles and I'm sure you haven't manage to find them all yet.

Have you got your FREE planner yet for whatever reason, just click this Free wedding planner link to it. Then simply open the zip file and you're ready to go.

See you next month,


P.S. Why not send this to a friend who is getting married, you might just save them a fortune!

If this was sent to you by a friend and you enjoyed it, then click here to see how to go about signing up for more copies of my FREE money saving e-zine and get a complementary wedding planner.