Wedding Car Rental
Getting It Right.
Wedding car rental needs to feature on your wedding to-do list. After all your hard work spent planning your venue and making yourself gorgeous, it's no good if you can't get to your ceremony on right time! Get your transport organised sooner rather than later – if you leave it to the last minute you risk not being able to get a wedding car.
While it may initially seem like an easy task, there are some things to watch out for. One simple mistake can make or break your wedding day, so at this stage it pays to take a little time to get it right.
For this reason I have put together this quick guide on wedding car rental to help you avoid the potential problems and hopefully save you some money in the process.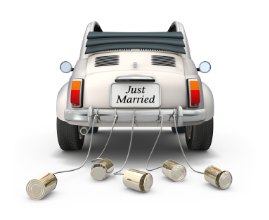 The first thing you should consider is your budget. How much have you set aside for your wedding car hire? When you think about wedding cars you will likely arrive at two options i.e. borrowing a car from a friend or family member or hiring a car from a professional wedding car hire company.
Borrow a Friend's Car :
This is probably the cheapest form of wedding car rental(often free) depending how generous your friend is feeling, but to avoid any awkward feelings I would suggest you should at least offer some sort of payment. You will probably find that they may offer it as their wedding present. When borrowing a friend's car there are still some things you need to consider, and they are as follows:
Make sure the car is reliable, safe and road worthy. The last thing you want is to be late for your own wedding because you have broken down or have been stopped by the police!
Always ask permission from the car's owner before deciding to decorate it. Their car may be their pride and joy and they may not want you tying flowers to it with little twisted bits of wire or tape etc. Besides some simple ribbon is normally more than enough. Excessive decorations can compromise a car's safety and invite unwanted attention from the police!
Does your friend have a good suit that makes him look like a chauffeur? Check first as he might want to wear his own choice of suit to the wedding. Don't forget that he is also a guest and should feel comfortable during the day. If you want him in a particular suit you may have to hire it for him and that will be an extra cost you may not have allowed for.
Do a test run on the same day of the week at the same time as the wedding so that you are confident your friend knows the route and the timings. Write the timings down for your friend to keep in the car (just in case).
Professional Wedding Car Rental :
If you have allowed enough in your budget for professional wedding car rental that's great but this option also has a few things to consider.
What type of car do you want ? Most firms will have several options.

- Vintage cars - check they are in good condition. If they are stored indoors they will likely be in better condition, however with older cars you do run a higher risk of breakdowns so allow for the worst in your timings.

- Modern sports cars - perhaps you want a modern sports car like a Porsche, Ferrari, Aston Martin or a Lamborghini as your wedding car rental. The wedding car hire firms can often source, or may have available, cars like these for your wedding day. Some can even arrange for self-drive hire so you and your groom could drive off into the sunset together just like Prince William and Kate. Just be aware that sports cars do tend to be quite confined and you should consider the size of your dress. Will it fit and will you be comfortable?

- Stretched Limos - these are easily available but you should check they have been converted correctly and safely. In the UK you should check to make sure the stretched Limo you are considering has been VOSA (Vehicle & Operators Service Agency) certified. If not walk away. Use this link to the VOSA site to check if the firm you are thinking about using holds an operator's licence.

- More unusual cars - many firms are now beginning to offer retro vehicles such as VW Combi Vans, Beetles and Minis for wedding car rental. So don't feel you have to settle for the traditional style wedding car if you have your heart set on something a little quirky.

Go and physically look at the cars, especially the actual car you will be using. All reputable firms will be happy to let you do this. Make sure it is well maintained and in tip top condition.
Choose the colour of the car and the decorations to match your theme. You should be able to get them to provide the decorations in the price. But don't ask them about including the wedding car decorations until after they have given you a price for the wedding car rental. That way you can be sure they have not just added it into the price.
How many cars do you need? You might just want one for you and whoever is giving you away, but you might need several for bridesmaids, ushers etc. If you are ordering more than one, get a price for just one wedding car first (before you mention that you may need more cars). Then you can ask how much discount you can get if you hire more than one car.
Make sure they have local knowledge. A local firm should be cheaper as they will need to use less fuel (many wedding cars are petrol with large engines so will get poor miles per gallon) and they should know the roads and local area/churches well. Always get them to confirm that they will do a dry run before your wedding day and make sure you go through all your timings with them (again, write the timings down for them).
Get everything in writing as soon as you have agreed exactly what they will provide. Make a list of everything you want before you go to talk to them. Also think about what you will say to ensure you get a discount. Getting it in writing will avoid any possible confusion later.
Make sure the driver will have umbrellas and a first aid kit (but hopefully you won't need them!). You may also want to bring hairspray etc. with you in the car in case you need to carry out any repairs on the way!
Get references for whichever wedding car rental firm you are considering, ideally from friends or family who have used the firm before.
Make sure you know how long you have the wedding car for. Sometimes firms will book the wedding car out to you in the morning and then to someone else in the afternoon.
Wedding Car Insurance - just like your own wedding insurance, wedding car insurance is essential so make sure the wedding car hire firm has wedding hire insurance and public liability insurance (ask them to show you proof).
Choosing your perfect wedding car rental or loan car is an exciting stage and one which you should sort out as early as possible after setting the date and booking the ceremony/reception venues. Don't fall into the trap of assuming that it will be easy to get a wedding car last minute.
These cars are used for many occasions, not just weddings. So book early, especially in the traditional busy periods like the summer but also around Valentine's Day, towards the end of the school year (school formals) and most weekends (hen and stag nights). Don't say I didn't warn you!
No matter which of the above options you go for you will still need to make sure that they:
Arrive early on the actual day, preferably at least half an hour early to allow for delays.
The car and driver need to look smart and professional.
Consider your wedding dress style. If you dress is large you may struggle to get in and out of a sports car. Consider the space inside the car as well as the space at the door for getting in and out, after all you don't want your dress to get stuck in the door of the car as you try to exit in front of onlookers. (The rear doors on a Rolls Royce Phantom are hinged at the rear of the car to make access easier).
Now you know everything you could possibly require to enable you to choose the perfect wedding car hire firm or to borrow your friend's car with minimum hassle. Good luck!
Other Articles You May Like :
Wedding Car Decorations:


Return from Wedding Car Rental to Cheap Wedding Supplies.

Return to the homepage.