Cheap wedding tips
Welcome to the latest issue of "Cheap Wedding Gems".

This e-zine will keep you up to date with all my latest tips and money saving ideas for your perfect cheap wedding day.

If you enjoy this e-zine and know someone who is getting married please forward a copy to them so that they can benefit from the various articles.

If this e-zine was forwarded to you by a friend and you would like to see more then please follow this link to see how you can sign up for future issues (don't worry it's completely FREE).
---
Contents:
- The Dress - Potentially the most important purchase.
- Latest articles on my-cheap-wedding.
- Tip of the month.
- Final thought.
---
The Dress - Potentially your most important purchase!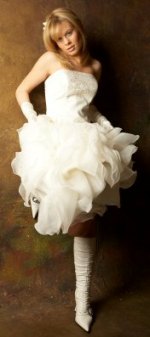 If you are anything like me you will no doubt have spent months dreaming about your perfect style of dress. However now that you actually have to buy it there are a few things you should consider.

1. Think about the material - Silk is beautiful but it is also expensive, consider satin for a similar look at a lower price.

2. Consider the length - The length of your dress will have an impact on the cost (less material, less cost).

3. Consider the Venue - If you are getting married in winter or a cold location then a winter wedding dress should keep you warm during the day. But a warm location such a beach wedding will demand a completely different style of beach wedding dress so that you don't end up a sweaty mess after 30 minutes.

4. Used wedding dresses - Don't dismiss these too quickly. Most will only have been worn once by one very careful owner and provided you can check them for grass stains around the hem etc. and there is scope for further alterations you should be able to grab a bargain.

5. Keep it simple - simple wedding dresses can be very elegant (think Grace Kelly). Plus they are usually cheaper as they do not have all the embellishments which are normally hand sewn onto the dress and this can put the cost up dramatically.
---
Latest articles on my-cheap-wedding.co.uk
Wedding Reception Table Decorations.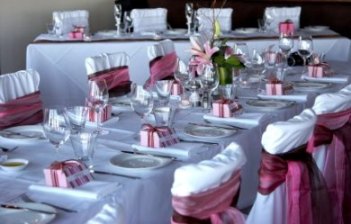 As with most things in life, if you over complicate wedding table decorations they can end up looking very fussy.

If you are careful and plan the table decorations carefully you can create a very expensive look on a very small budget.

The secret is keep it simple, use low key centrepieces and don't get too carried away with other table decorations. Use good quality plates, glassware, cutlery and table linen to lift the overall look. Click here for ideas on how to save on the cost of the tableware.
---
Tip of the month.
Simple ways of reducing you invitations costs:
1. DIY wedding invitations - these are fast becoming the norm as they are very personal and they are not that hard to do. Provided you have the time and ability required. Here are some pointers on how to make your own wedding invitations.
2. Buy kits online - If you don't have the ability or the inclination to do it all from scratch you can easily buy kits online or upload the picture you want and the wording and get them made for you.
3. For those of you on a very tight budget you could always design an invite on your PC and email it to your guests. This is the most cost effective method.
4. You don't have to send RSVP cards - why not ask guests to call you or email you if they are attending or not. This will save you the cost of the RSVP card and the cost of postage.
5. Why not create a picture wedding invitation using a picture of you and your groom-to-be. This is a very personal invite which your guests will really appreciate and they are really easy to do.
---
Final Thought
At the moment we are all probably more pre-occupied with getting over Christmas and looking forward to New Year and burst water pipes than getting too involved in the wedding plans. So I would just like to wish you all a very happy New Year and a prosperous 2011.

See you next month,

Helen x

P.S. Why not send this to a friend who is getting married, you might just save them a fortune!

If this was sent to you by a friend and you enjoyed it, then click here to see how to go about signing up for more copies of my FREE money saving ezine.