Inexpensive Wedding Venues
UK, Ireland & NI

Thank you for visiting our directory page for inexpensive wedding venues.

You'll no doubt have realised by now that potentially one of the biggest expenses you'll face when planning your wedding can be the venue and all that goes with it. You'll also know that I'm a great believer in the fact there are fantastic wedding venues out there where you don't have to spend a fortune to get a beautiful location for your cheap wedding.

Thankfully I'm not alone; there are lots of wedding venues throughout the UK, Ireland and N. Ireland who prove my point for me by offering great locations and offers to brides like you who are trying to keep the cost of their weddings as low as possible.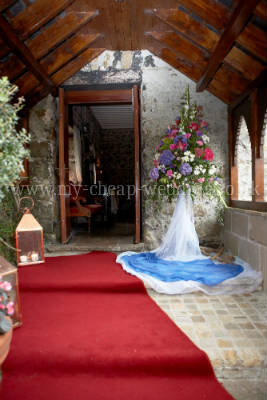 This section of "My Cheap Wedding's" directory is here to give those venues a platform to share their various offers and details with you. So feel free to click on the venues below to be taken to their own dedicated page where they'll tell you a little more about themselves, their wedding venue and what they can do for you both during the lead up to your big day and on the big day itself.

It couldn't be easier to use our inexpensive wedding venues directory, just click on the venue you're interested in and you'll be taken to their page.

The listings at the top of the cheap wedding venues list in pink boxes are premium listings and will contain additional features like Google maps so that you can see exactly where they're located and a contact box so you can ask them any questions you might have.

Inexpensive Wedding Venues:
A beautiful wedding venue located half way between Swansea and Brecon
What if there's no listing for your area?
If there isn't a venue listed for your area don't worry, simply type "wedding venue" and the name of your "city", "town" or "county" (but without the quotation marks " ") into the search bar below and simply click on the search button to get a list of wedding venues in your area.

For example: - Wedding Venue Bristol - would bring up a list of wedding venues in the Bristol area.

If you still can't find the information you're looking for then check out my articles on cheap wedding venues where hopefully you'll be inspired on alternative wedding venues and then check back here from time to time as we add new listings to our directory all the time.
Our directory is always being added to but we're aware that there may not be a listing to suit every bride and every location. So if you feel there is a venue in your area that isn't here but should be then please feel free to tell them about our directory service and ask them to submit their details.

Return from Inexpensive wedding venues to the directory search page.