Affordable Wedding Guest Book Ideas
No wedding would be complete without a wedding guest book, so here are some unique guest book ideas to get you started.

A guest book for your wedding is a lovely way to capture the blessings and good wishes of your wedding guests. It's a wonderful memento that you can look at for years to come. Every time I look at ours it takes me right back to our big day. I particularly love the kids' attempts to write their names – then I realise how big they've grown since then!
As the name implies, the traditional wedding guest book is a sturdy, usually hard-backed fancy book for guests to record their greetings in. A ring-bound book is ideal as it opens flat without your guests fighting to stop the pages turning!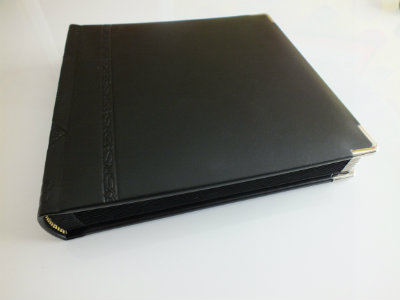 The size is up to you, although it makes sense to have a book proportional to your number of guests. You don't want your guests to run out of pages, yet you don't want a huge book with only a handful of signatures in.
There's a huge range of wedding guest books available on-line and on the high-street to suit a wide range of budgets.
A wedding guest book is also very simple to make yourself, if you're DIY-minded. You don't need to be a craft expert to make your own, and you can personalise it to your own requirements. Check out online craft suppliers and art/craft shops for ideas. All you need is a decent quality notebook and you can decorate it to tie in with your wedding theme.
Another option is to use an online photobook supplier to make a unique guest book using photos of the bride and groom. This will obviously be a more costly option, but with a bit of shopping around you could find a reasonably priced photobook-style guest book.

Try thinking outside the box: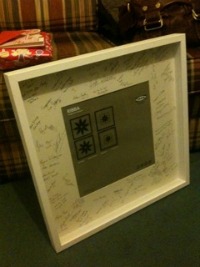 For our wedding we opted to have a large signed photo frame rather than the traditional book, in which we put a favourite wedding photograph. We got our reasonably priced picture frame from a certain well known Swedish store.
Remember to get a frame with a deep mount so that your guests will have plenty of room to write their messages.
During the reception, the mount was taken out of the frame so the guests could write their messages on it. The beauty of the using a picture frame is that you can hang it where it can be seen every day, and not put away in a box. Ours has pride of place in the kitchen!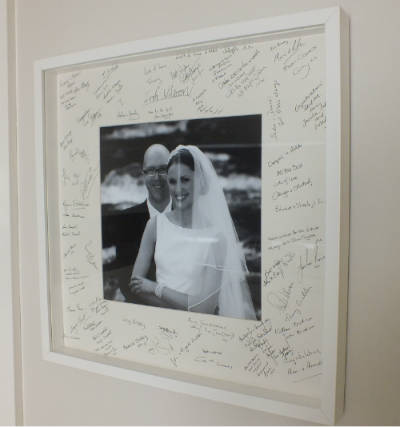 A few handy tips for your wedding guest book:
Once the partying gets started, your guests may get distracted from signing your guest book. You won't get another chance to get people's signatures and messages!

We found that placing it by the entrance to the reception with a little caption asking guests to "please sign our picture frame to help us remember our wedding day" got most guests. Then a prompt during the speeches or by the venue's toast master will reminded those who had forgotten to sign.


Another option to avoid missing guests out, is to ask a member of the wedding party to bring it round the tables at your reception (but be careful of food and drink stains).  Or failing that, as mentioned above, set the wedding guest book in a prominent place where your guests can take their turns in signing it.

Either way, it's a good idea to have someone keep an eye on it to avoid it getting splattered by drink and food. Speaking of drink, it might be better to get the messages written before your guests' hand-eye co-ordination is impaired by all that champagne!


Encourage people to elaborate. When our guests were asked to sign their names, some did literally just that! Try something different – if space permits, ask guests to write something unique to the happy couple e.g. a funny childhood story involving the bride or groom, or perhaps what their favourite aspect of your wedding day was.


Don't forget the wedding party's signatures! Your wedding day wouldn't have been possible without them so make sure they get their chance to record their message.


Provide the pen and have a few spares just in case – preferably pens that don't smudge. For the picture frame idea in particular, it looks better if the writing is all done using the same ink. 
A wedding guest book is a wonderful way for your guests to record their messages of congratulations, and is something you will look back at for years to come. I hope this section has helped you to come up with some unique guest book ideas for your own wedding.

Return from wedding guest book to the wedding reception.