Funny Wedding Cake Toppers
What's Available
We've all thought about having funny wedding cake toppers. Some of us have gone ahead and bought them and some have ditched them in favour of the more traditional route.
I have even been to a wedding recently where the bride and groom wanted both and so they had both. They had a traditional cake (decorated with flowers) and a small single tier cake with little marzipan figurines of the bride and groom in scuba gear.
There are a huge variety of funny wedding cake toppers out there so try not to get bogged down when choosing the best one for you. My advice would be to try to decide on a theme or a few themes in case your preferred one isn't available, before you actually start looking on line or on the high street.
You should try to choose a theme that your guests will easily recognise and be able to associate with the two of you. There's no point going with a cryptic theme for your funny cake toppers that only a few of your guests will actually get. For example, if you or your other half are (as above) keen scuba divers then that would be a great theme that all your guests will get immediately.
Consider your guests sensibilities. If you are inviting great aunt Mable who might be easily offended then a humorous wedding cake topper showing a bride in a leather corset might not be all that appropriate.
But on the other hand if you are having a small wedding with just close friends then anything goes. You're the one choosing the guest list so it's up to you to try not to upset any of them.
Other than these two rules of thumb you are only restricted by your imagination and the style of cake topper you want.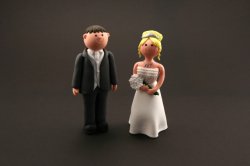 Styles Available:
Marzipan - funny wedding cake toppers in Marzipan are relatively straight forward to get from your local cake decorators on the high street. They tend to be quite simplistic with no detailed facial features (as in the image above) and for this reason you could even have a go at making them yourself with marzipan or simple plastic dolls (like the mouse trap cake toppers below). But beware as with all things DIY they will take longer to make than you initially think.

Pre-made Plastic cake toppers - if you are not the DIY type or you just don't like the look of marzipan humorous cake toppers then another popular choice is the moulded plastic toppers which are easily available online in literally hundreds of different styles to suit your particular requirements. An example is shown below.

Custom made or life-like cake toppers - as soon as you start considering the custom method you are immediately getting into much more expensive territory (expect to pay anything from around £75 upwards) and you will have to wait to have them made (sometimes several months) so allow plenty of time. With the custom made toppers you do have the benefit of getting unique cake toppers that will actually resemble you.
As with most things cheap wedding related, organisation is key, allow plenty of time, set your budget and don't be tempted to spend more that you have budgeted for. At the risk of repeating myself, try to decide on the theme of your funny wedding cake toppers before you talk to the supplier in order to reduce the risk of getting talked into something more expensive.
Related Articles:
Wedding Cake Toppers
Wedding Cake Designs
Wedding Cake Recipes
Make Your Own Wedding Cake


Return from Funny Wedding Cake Toppers to Cheap Wedding Cakes.
Return from Funny Wedding Cake Toppers to My Cheap Wedding Homepage.