Wedding Suppliers Submission Page
Welcome to our submission page for wedding suppliers.

This section has been created to let companies like yours make contact with the thousands of brides who regularly visit the "my-cheap-wedding" website looking for wedding related information and companies who can provide them with their wedding supplies.

It doesn't matter if you're a small one person operation or a large multi-national company. If you offer what our readers are looking for then we can put you in touch with them as we have a steady stream of brides visiting our site on a daily basis while they plan their perfect wedding.
So why not let them know you exist!

All we ask is that you're a supplier to the wedding industry and you're either based in, or can supply to the UK, Ireland or Northern Ireland.

All you need to do is fill out the form below and submit your details to our wedding supplier directory.

What do we charge for our listings?

We offer two types of listings, the first "basic listing" is free and the second "premium listing" is £15 per month (payable in advance for 6 or 12 months) which I hope you'll agree is very favourable when you consider what you're getting compared with other wedding advertising media.

Basic listings last for 12 months and premium listings last for either 6 or 12 months.

However, while we establish our directory we're offering a very special introductory offer to the first 30 submissions. Those first 30 submissions will get a FREE "premium listing" for 12 months, which includes valuable additions over and above the "basic listing" (see below).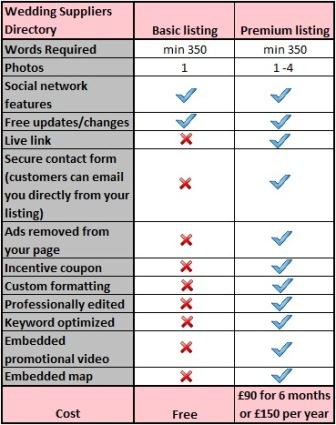 Why don't we charge for our basic listings?
We don't charge for our basic listings as our goal is to provide as much information as possible for our readers. By submitting your company information you're not only helping raise the profile of your company by getting your details in front of thousands of brides and grooms. But in addition you're also helping us achieve our goal of providing more information on what services are out there.
So we made the decision not to charge for our basic listings.
Why do we charge for premium listings?
Once the initial 30 premium listings have been taken up we will, unfortunately, have to charge for premium listings due to the additional work involved in creating the listings and adding all the valuable additional features detailed in the table above.

We've set our premium listing fees as low as we can because we want to offer good value for money to companies like you who list on our wedding suppliers pages. That way we all benefit and hopefully when you see the value of being placed directly in front of your target market you'll re-order a listing for next year.

Please note this is not your normal "wedding suppliers directory", this is an opportunity to have a full dedicated web page created as a shop window for your company. It'll be searchable on the major search engines like Google, Bing etc.
If you already have a website it will strengthen your brand name and if you don't have a website it will give you a web presence without the hassle and expense of building a your own site.

As your listing will be a dedicated web page within our site there are a few rules that we ask you to adhere to when submitting your company details. Don't worry, they're not very onerous, but they'll help both of us stay on the right side of the search engines and get your new page closer to the top of the results pages. They can be seen here.
By submitting your listing you accept that you have read and agree to these submission guidelines.

Other opportunities with my-cheap-wedding.co.uk
We also offer a very limited number of site-wide and section-wide sponsorship opportunities for wedding suppliers.
Site-wide sponsorship offers the opportunity to have your company advert placed on every page of our website (with the exception premium directory pages). We currently have over 130 pages (which get read over 15,000 times a month) and that number is growing all the time


The section-wide sponsorship allows you to choose a section to sponsor, such as the wedding rings section or the wedding dress section etc. which would offer inclusion of your company advert on all pages in that particular section
All site-wide or section sponsorship includes a link directly to your homepage (no deep links are permitted and all links are in accordance with Google's guidelines).

For full details and prices use the contact box at the bottom of our submission guidelines page.
UNFORTUNATELY WE ARE NOT CURRENTLY ACCEPTING ANY NEW SUBMISSIONS.