Cheap Wedding Shoes
Yes, I know what you're thinking; anyone can buy cheap wedding shoes and bridesmaid shoes.
But there are a lot of considerations to think about as there are literally hundreds if not thousands of potential bridal shoes to choose from.
At this stage you'll already have chosen your wedding dress and bridesmaids' dresses So you're now in a position to start deciding on cheap wedding shoes. But before you do you should really consider the following:
Your Wedding Location:
Your shoes and your bridesmaid's shoes should suit the location, so if you're having your wedding in a marquee or somewhere you'll have to walk over grass, it's best to avoid stiletto heels. Otherwise you'll spend a good part of your day sinking into the grass or mud and your heels will be ruined.
You may also want to avoid satin or silk shoes as these will stain easily. For grass or soft terrain you could consider wedges which won't sink and will still give you some height for the pictures.
Similarly a beach wedding wouldn't suit heels but sandals would be ideal as they keep your feet cool and allow the sand to get out.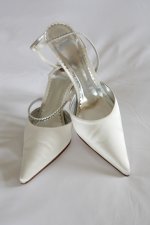 Design vs. Comfort:

How the shoes look is very important but you should also consider how long you're going to be wearing them.
It'll be a very long day and your feet will swell as the day goes on. For this reason you'll want a combination of style and comfort. This also goes for your bridesmaids and thankfully for them it's not essential that the bridesmaid's shoes are all the same, just as long as they all work together.
Height:
This is where your shoe choice starts to help with the photographs. If your bridesmaids are all different heights you can use different height shoes to even them out for the pictures. Taller brides might want to opt for lower heels to avoid towering over the groom; conversely petite brides can add inches by wearing big heels.
Dress Style:

The style of your dress or your bridesmaid dresses will have an effect on your shoe selection. If the dresses are long the choice of shoes is less relevant as they'll be hidden by your dress. However if your dress or your bridesmaids dresses are short the shoe choice becomes more important.
If using lower heels consider using ankle straps as these will make your ankle appear more slender and high heels will elongate your legs.
Colour Choice:

Traditionally white or ivory wedding shoes would have been the norm for the bride. Today things have moved on a little and pretty much anything goes. Most brides will still want to match the shoes to the dress (including the bridesmaids shoes), although there is a growing trend to go for shoes or heeled sandals in a "go-with-anything" colour, e.g. gold.
Consequently the high street becomes more viable for cheap wedding shoes as there will be a huge selection of styles and colours.


If going for matching shoes you should bring a swatch of the dress with you when shoe shopping.  Bear in mind shoes can look slightly different in natural sunlight as opposed to the artificial shop lights. If you can't get a swatch a cheap (and FREE) alternative is to get a paint swatch card from any DIY store that matches your dress colour.


If you can't buy the correct colour off the shelf you'll need to have your shoes dyed. My advice would be to get this done by a professional as they'll be able to get the colours to match (but only if you get all the shoes dyed at the same time). Don't forget to leave enough time to get the shoes back just in case there is a problem that needs to be rectified.


DIY dying may seem tempting but if the shoes have been treated with a stain protector the colour may not take evenly, and if it rains you can end up with colour runs.
---
No matter where you decide to buy your shoes, always check their return/refund policy as you may change your mind when you get home.
So, to summarise, the cheapest option is often to buy on-line or if you're looking for alternative colours the high street can be good, but it may be difficult to find an exact match for colour.
If you can't get the colour you need you can still buy on-line or on the high street and get them dyed (ideally by a professional).
You can buy from a bridal store but this option will likely be more expensive unless you can strike a deal (i.e. ask them to throw in the shoes if you're buying you dress of them etc.).
So there you have it, with just a little thought, you too can have cheap wedding shoes that will look a million dollars.
Return from Cheap Wedding Shoes to Cheap Wedding Accessories.