Wedding Car Hire Companies
Wedding car hire companies are one of those things most of us don't really give a lot of thought to.

Many of us will happily get on with planning all the big romantic parts of our weddings like the dress, the reception, wedding cake and honeymoon etc. Basically all the exciting bits, while leaving the wedding transport to the last minute.
However, you shouldn't underestimate the importance of the wedding car. Without it you'll have a long walk to the service and it's really nice to arrive in a really special vehicle on your wedding day. Whether your personal choice is a white Rolls Royce, a VW Combi, a super-car or maybe even a horse drawn carriage, it's still something that will involve planning in advance.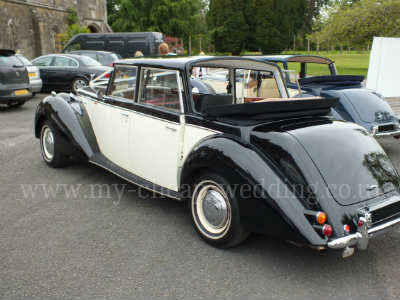 What I'm saying is don't leave your wedding car arrangements too late as many of these companies tend to book out quite quickly in advance. So decide on the type of wedding vehicle you'd like and decide on your budget. Then contact a few to see what they can offer you before going down to physically have a look at their vehicles and speak to them face to face.
Have some questions prepared and go through them all with the company's representative. Finally, before you make your decision speak to the driver if possible as it's him you'll be with on your wedding day and it's nice to establish contact and strike up a rapport before the wedding day.
Do you own a wedding transport company?
As the wedding car is so important I felt it necessary to create a section where wedding car hire companies can provide you with some more information on what they do and more to the point what services and vehicles they can offer you. That way you can read through them at your leisure before deciding which one to contact.
It's really simple to use:
Just click on the name of the company you're interested in and that will take you to their own page where you can read all about them and what services they offer.
The listings in the pink boxes at the top of the list are premium listings and have a few extra features such as a contact box to allow you to send them a message right from their information page and where appropriate a map to show where they're located.

Wedding Transport Companies:

What if there's none in your area?
Don't worry we're not beaten yet. Just type the name of your town or area into the search bar below followed by "wedding cars" or "wedding transport" (without the "") or any other type of transport that you're looking for.
Then hit the search button and you'll get a list of local wedding transport companies in your area.
If you're still stuck have a look at my article on wedding car hire where I'll give you details of the types of questions to ask and the things you need to be doing before booking your wedding transport.
Good luck.
Helen X
Return From Wedding Car Hire to the main Directory Page.